Described by some as the "most successful Summit to date", the 4th national Melanoma Summit was held at the Langham Hotel in Auckland on 6-7 November 2015.

Hosted by MelNet with the support of the Health Promotion Agency (HPA), the two-day multidisciplinary meeting was opened by the Hon Dr. Jonathan Coleman, Minister of Health, and attracted over 270 national and international delegates.
You can access an Expert Forum publication that features summaries of selected presentations and workshops here.
International speakers
Thanks to the generous support of its sponsors, the Summit featured leading world authorities on melanoma, including:
Professor Charles Balch, a clinical and academic surgical oncologist, who provided an overview of melanoma prognosis and staging, surgical margins, multidisciplinary treatment options and strategies for the future;
Professor Antoni Ribas, a recognized expert in the treatment of advanced melanoma and tumour immunotherapy, who highlighted the urgent need for patients in New Zealand to have access to therapies that are now considered standard in the United States and elsewhere;
Associate Professor Cliff Rosendahl, a primary care practitioner with expertise in skin cancer, who focused upon the vital role of dermatoscopy in the early detection, diagnosis and monitoring of skin lesions and the need for training and certification;
Professor David Whiteman, a medical epidemiologist and pioneer of molecular approaches to melanoma, who stressed the importance of primary prevention and outlined his research into the dual causality pathway of melanoma.
Wide media coverage
Media coverage of the Summit included radio and print interviews with overseas speakers as well as of a post-Summit media release calling for PHARMAC to fast-track funding reviews for the latest melanoma treatments. Links to these articles and interviews can be found in the media section of the MelNet website.
HPA showcase of new SunSmart pharmacy resources
The Summit provided an opportunity for the HPA to showcase its new SunSmart pharmacy resources, including slip, slop, slap and wrap posters. These can be downloaded here, or can be ordered by contacting enquiries@hpa.org.nz.
Related media coverage included TV One's Kiwi Living Show on 6 November, featuring an 8-minute programme fronted by Tony Murrell that focused on SunSmart prevention and early detection messaging.
Priorities for action
At the Summit conclusion, participants and overseas speakers identified a range of priorities for action, including the following:

As ultraviolet radiation is the second most preventable cause of cancer in New Zealand, a stronger commitment is needed to funding, resourcing and evaluating primary prevention.
GPs should have access to training and accreditation in dermatoscopy for the diagnosis of skin lesions.
The Melanoma Standards should be finalised and implemented in all DHBs.
A translational research network involving clinicians and researchers should be established.
The number of clinical trials in which patients can be enrolled in New Zealand should be increased.
PHARMAC should fast track funding reviews for the latest treatments for advanced melanoma, none of which are funded in New Zealand. (A summary of current systemic treatment options available in New Zealand can be found here.)
Also, at the MelNet AGM held as part of the Summit, members unanimously agreed that the use of commercial sunbeds should be banned in New Zealand.
Acknowledgements
The MelNet Executive Committee and the Health Promotion Agency, as hosts of the Melanoma Summit 2015, thank all of the speakers, especially the international guests, as well as the chairs and panelists of the breakout sessions and workshops. All were very generous in donating their time and expertise.
The MelNet Executive Committee and Health Promotion Agency also thank their sponsorship partners whose support has made the Melanoma Summit 2015 possible.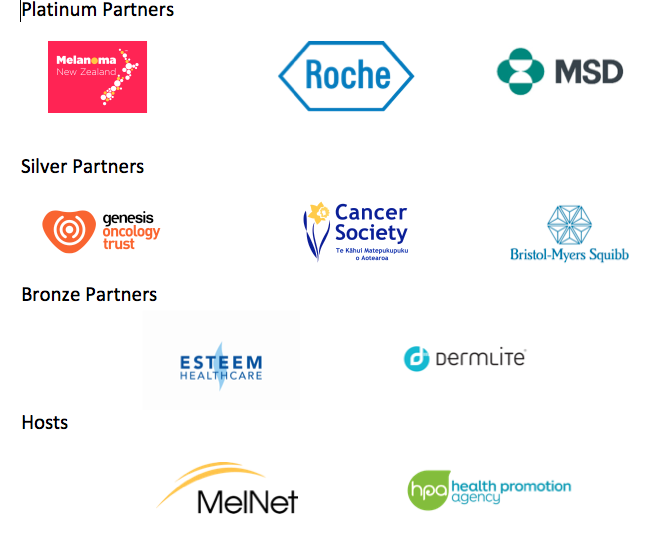 Melanoma Research Symposium
5 November 2015

The Melanoma Summit 2015 immediately followed the successful inaugural Melanoma Research Symposium organised by Melanoma New Zealand and the Australia New Zealand Melanoma Trials Group (ANZMTG). The symposium addressed preclinical and treatment related topics and was aimed at researchers, trials co-ordinators and study nurses. The programme was designed for researchers to collaborate and network prior to the Summit.